Day 3 Itinerary
Jeju 5 Days Folk Market (Part 1)
Jusangjeolli Cliff (Part 2)
Teddy Bear Museum (Part 3)
Osulloc Tea Museum (Part 4)
Nanta Show (Part 5)
Seafood Dinner (Part 5)
Jusangjeolli Cliff
Address: 216, Jungmungwangwang-ro, Seogwipo-si, Jeju-do
According to Wikipedia, The Jusangjeolli cliff is a spectacular volcanic rock formation at the southern coast of Jeju Island. Direct Translation from the Korean Language, Jusangjeolli (주상절리) means columnar jointing. By looking at these HD photos by the Photographer William (@lwliam), it felt like it's human made rocks. The constant pattern and the straight pole like rocks.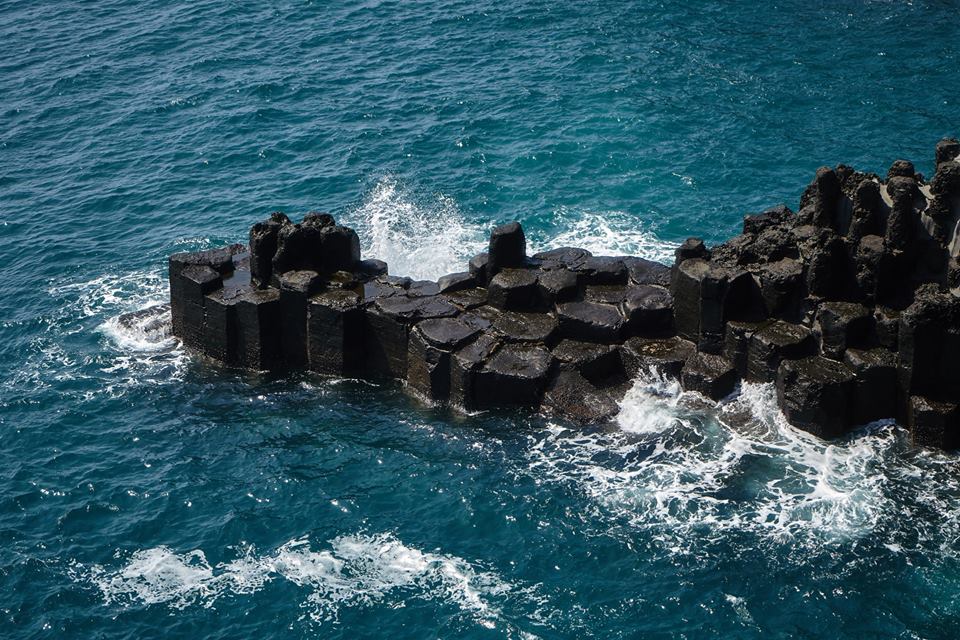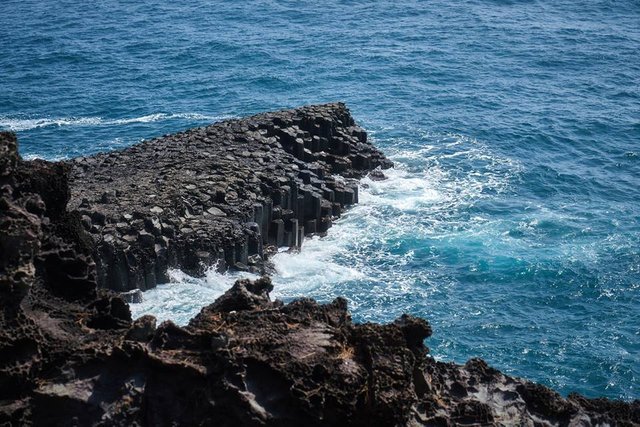 Entrance
There is a fee to enter the site view and the park. The admission Fees are as below.
Individuals – Adults 2,000 won / Teenagers & Children 1,000 won
Groups – Adults 1,600 won / Teenagers & Children 600 won
Before entering, there'll be restrooms and food stalls. Just be reminded it's a tourist site so the prices may be higher. Restroom are absolutely clean and free to enter. Get in before you walk your way to get yourself stucked in the crowd.
Viewing Platform
When I said crowd, the sole reason is always because, there's someone like me! Non-stop taking selfies at the same spot. While the crowd is coming in, my hands were stretching out to get a better angle and to capture a wide surrounding. And yes, this is one of the platforms looks like. It's big enough to get a group photo taken too!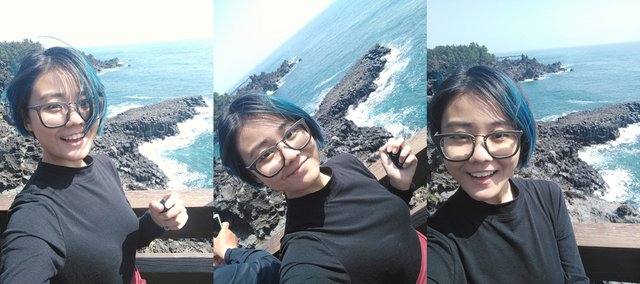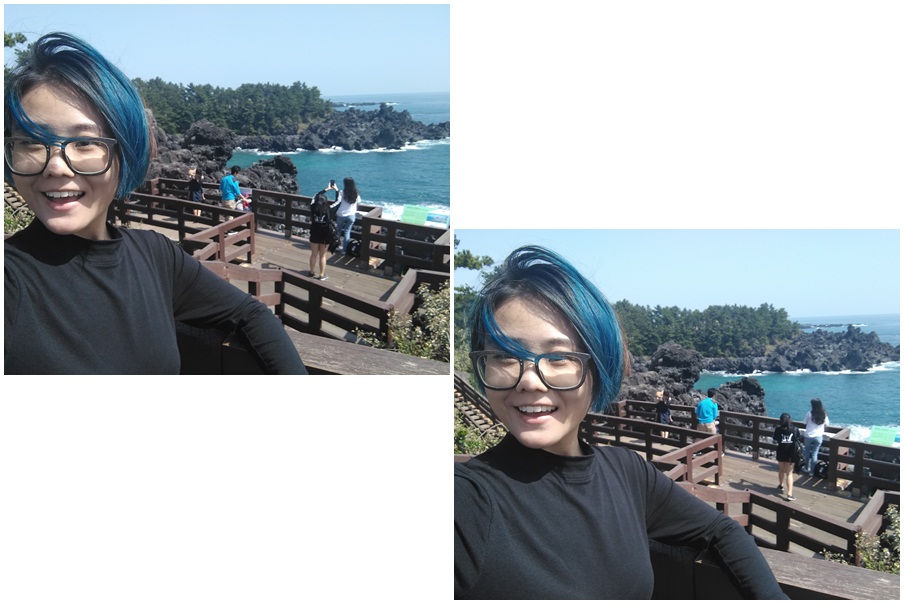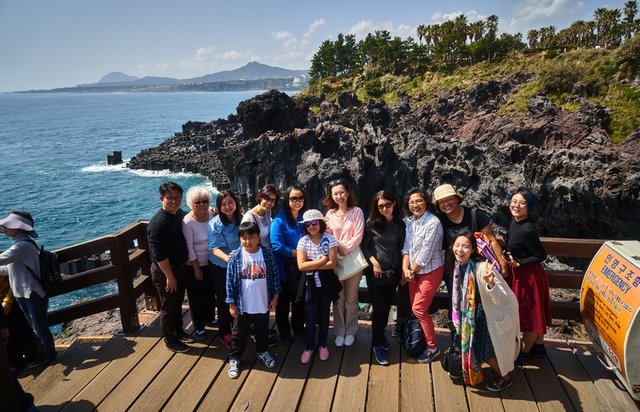 It's a Park out there
After this sie seeing, you can head out for a good jog in the well-maintained path and the greens. These stools and tables are actually made of Jeju Lava Rocks! Jeju Lava Rocks are actually everywhere. The rocks have big pores, but still solid enough to be stacked up as a wall for your information. It's not painful for you to sit on it if you are wearing pants that cover your tights. Heard that if it's summer, the rock won't absorb too much heat too. Relax and take a break with this cooling breeze.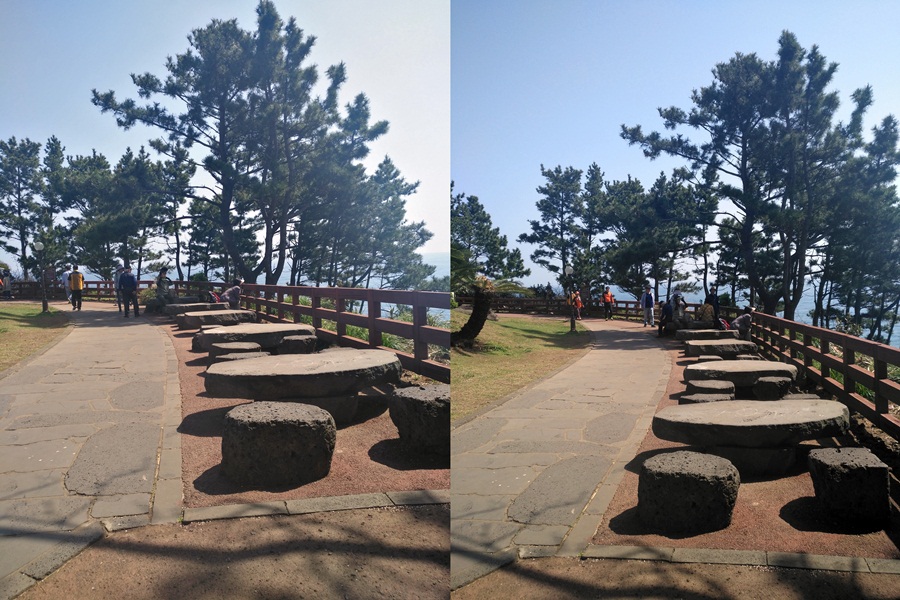 Overall I would say this place has nothing much to offer. Hmm… Not really into my favourite place to visit. The tour guide also allows us to be here for half an hour only. I guess this place is nice for first visitors.
---
Special Thanks to
Glam Suitcase Travels for allocating ample time for us to visit this wonderful place! Second, William Leong Photography (Steemit account: @lwliam) for all the photos posted in all Jeju Trip Posts!
For more information, please contact the number below (Veronica):
Email address: veronica@glamsuitcase.com